This comic contains adult themes and content that may not be suitable for everyone. Reader discretion is advised!

---
1/30/2017
---
There's an update tomorrow! And then I'll be continuing the comic from here on out with one update every thursday. I wanted to update twice a week but it isn't realistic for how much time I try to spend drawing each panel these days. If anything, updates will be once a week but longer sometimes.
I still need to edit the 'about' page to reflect that, but if you visit it now you'll see that I've added some portraits. I've brought on my cool friend Janice to help me color panels when she feels like it. Be nice to her......
In other news I will be attending Anime Detour and Fanime this year as far as conventions go. We've also opened a new store, have a look!
---
11/2/2016
---
Hey everyone, it's been a while! After the latest update video, I started working on a second video for the 5k tier Kickstarter reward, so I've been MIA for a while. The backer video is almost done, as well as the portraits, which should both get posted early December. I plan on updating again in 2017 since all of 2016 has been packed with various other work and life things that consumed my days. But do not fret! I'm planning on bringing a colorist on to help me complete panels, which will hopefully make updates come a little faster. I'll be announcing the colorist along with new updates next year, right after updating the website to appropriately accomidate these changes.
Also, remember that excellent song used in the animation of chapter one? In case you hadn't researched the band, they are called Elsiane and they are currently looking to fund their sweet new album which I am totally excited for!! They haven't made a new one in quite some time, but are finally running an Indiegogo to get it off the ground and into your earbuds. Please check out what they have to offer!! Elsiane is a seriously talented duo and I am really looking forward to the music they'll create to bless our ears:


That's all for now, please stay tuned for future updates on where the comic is at. And yes, I will modify the update schedule to be accurate, and if you wish to say hi and keep up with what I'm doing, my twitter is a constant feed of what I am currently working on. And one last time, no the comic has not stopped, yes updates are coming, just at the normal human rate that is actually possible and not at the instant, constant, inhuman speed that is killing me slowly. Cheers!
---
6/2/2016
---
As we near the end of shipping out kickstarter rewards, were taking this time to open a final preorder of Ava's Demon books one and two, plus all the other items that were featured in the last kickstarter. THIS WILL BE THE LAST BOOK ORDER WE DO!! at least for now. It's taken a toll on my husband and I, who both have lives outside of my comic, and we've decided to stop making books for a long time. So this is your last chance!! Preorder to your hearts desire and we will ship out your orders with the last Kickstarter rewards. If you have any questions please email us. Thanks and cheers!
---
5/21/2016
---
Hello everyone! I will be at FANIME next week, from the 27th to the 30th at TABLE 603. I will have limited amounts of special edition books and other neat items. Hope to see you there!

---
4/1/2016
---
Happy April Fools! There was a legit update today.
Also I will be at FANIME this May from the 27th to the 30th with a table full of new merchandise and physical art to sell. I WILL have books but only a few because I'm flying across the country to attend, and it will be first come, first serve!
News on the table number for Fanime will come soon.
Also I've started revamping the Patreon if you want to check that out, there is a new 150$ tier where you can hang out with me and talk about the comic once a month in a livestream.
My schedule is still inconsistent because of other work, but I will ALWAYS update when I have at least 10 panels to show you guys.
Cheers and thanks as always, everyone! Happy Spring!
---
1/30/2016
---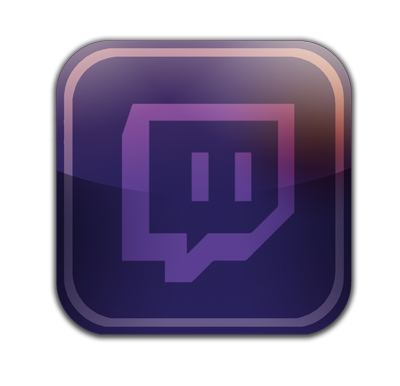 As you may or may not have noticed, there was a 30 panel update today, which you can read through the "latest" button!

Also I will be moving my art and panel streaming to this channel on Twitch! This link and various other links to all the social media websites I'm on have been updated and placed on the links page, so if you were ever wondering where anything is, it's all organized and placed out there.
I'd like to start updating again soon, probably towards the end of February when I'm done with kickstarter/YOTTA work. Please have a little more patience and thanks again for all that you have had thus far! Looking forward to continuing the story then. Cheers guys!
---
11/2/2015
---
Hey everyone! Here is an ultra, super, mega, uber update on all things Ava's Demon!!!
The books are finished and being printed, I received some proofs and have been working with the printers to get them perfect. More updates will come when more stuff comes in. By the time we have everything in our hands, I'll be able to give an ETA on how long it'll take us to ship stuff to you. I don't have exact ETAs right now because I don't want to make any promises and then have them fall through.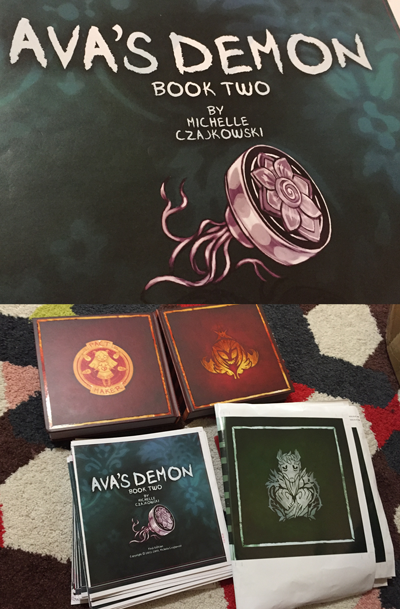 The second book does not have as much making-of in it as I wanted it to have, I ran out of page space. The book itself is about 440 pages altogether, most of it being the comic (it's a whole lot of book). If I release more sketchbook and making-of stuff in a pdf, I will give it to all the backers for free, if not it will be in the next book (Odin's book).
I have also been working on the storyboards for Studio Yotta. As you may or may not remember, the final goal of the kickstarter was a fully animated short for the comic itself, I'm basically key animating a lot of it and then handing that off to Yotta. The animation will come out as an update for the comic next year.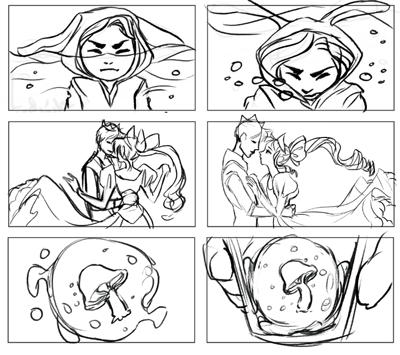 So where have I been?? Well this year has been extra busy, not only did I move from one apartment to another, I also got married, celebrated a new neice, got some bullies off my back, built a new computer to replace the brick I work on, and all on top of making the two books and all the art that will come with it. I've been super busy, basically. It's been hectic, to say the least.
Updates should be coming back around January, I never wanted to take this much time away from updating because dang, I would really like to get the story rolling, but I can only do so many things at once. I think I might take a break from conventions just to dedicate all my time to making the comic as much as possible. If I do some how make it to a convention I will always announce it in the news section of the site.
If you missed the kickstarter and would like anything, we will be doing pre-orders in the future for both books and merch. Thanks again for all your patience and support!!
---
3/30/2015
---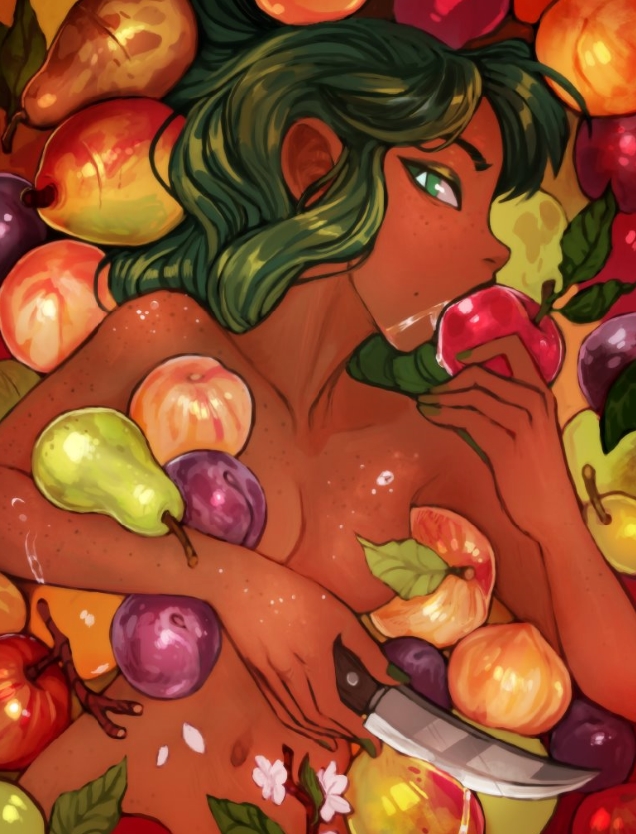 ---